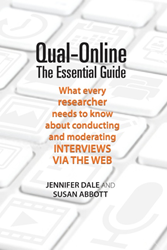 Ithaca, NY (PRWEB) October 29, 2014
Liz Van Patten of Van Patten Research, a veteran researcher who has conducted research for numerous Fortune 500 companies over the years raves about Qual-Online, calling it "a rare stunt for a business book – an engaging and entertaining read."
For researchers, marketers and business decision makers, "Qual-Online, the Essential Guide" takes readers on an entertaining journey of the different ways to conduct interviews via the web. Full of practical, hands-on tips, even those experienced in qualitative online research will find new approaches and exercises to engage participants.
From learning about the types of interview tools at your disposal, to planning your first online study, this extensive guide will help readers understand the sequence of steps to follow, timing, and costs involved.
Qual-Online, the Essential Guide is available online at Amazon and Paramount Books. Published by Paramount Market Publishing in Ithaca, NY. For more information, contact James Madden, Publisher.
About InsideHeads

InsideHeads is a full-service online market research company since 1998 with experience developing surveys and platforms for moderating online focus groups.
About Abbott Research

Abbott Research + Consulting is a boutique consultancy specializing in customer insight and discovery-driven innovation.