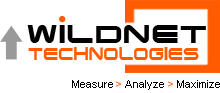 Noida, India (PRWEB) May 20, 2013
With the newly designed punch line, the Noida Headquartered company, which is hailed worldwide for its dedicated search engine optimization (SEO) and design services, is trying to connect excellently with its target clients. The company first invites clients to measure or assess the Internet marketing services provided by the Wildnet by using them at least for once and then analyze or evaluate the level of services and thereafter maximize or get the most out of your business with Wildnet Technologies collaboration.
Dedication and consistency makes a company stand out and helps the business get noticed and credible. Working and following the same prototype distinguishes Wildnet from its peers. Our new punch line and revamped website, is a way to get well-connected with our target clients and this transformation also aims to strengthen our relationship with our existing clients, said CEO of Wildnet Technologies.
The highly qualified professionals and skilled search engine specialists, who are also certified in Google Adwords and ISO standards, at Wildnet work consistently and whole-heatedly to bring higher visitor traffic to clients website which ensures websites higher rankings on the search engine pages.
Moreover, being named into Deloittes Technology Fast 500 Asia Pacific Companies once again this year is another feather in its cap. Earlier this month, Deloitte has recognized Wildnet Technologies as one of the fastest growing companies in the Asia Pacific in the technology media and telecommunications sector.
About Wildnet Technologies
Wildnet Technologies Pvt. Ltd is a certified ISO 9001:2008 company and also a Google Adwords partner. The company is recognized as one of the Indias top three leading digital marketing provider. Apart from offering dedicated search engine optimization (SEO) and design services, the company holds expertise in providing offshore SEM services. Wildnet provides number of service options like SEO, SMO, PPC, Web Designing, Web Development.