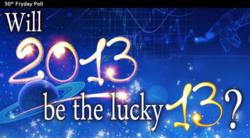 San Jose, CA (PRWEB) December 29, 2012
What does the New Year hold for the world? For 50 weeks now, MapsofWorld has been raising critical questions, global and social concerns in their infographic series called FryDay Poll. In their 50th feature which coincides with the last feature for this year, MapsofWorld has taken a look into the top trends and important events for 2013. Starting with the significant events such as Croatias accession to the European Union and withdrawal of New Zealand troops from Afghanistan, the infographic illustrates through trends and predictions in the world of technology, economy, politics, and space programs.
Which are the top smartphones and tablets to be launched in 2013? What are the top technology trends for 2013? Which countries are scheduled to go in for parliamentary polls? Which countries are likely to have new presidents? Which are the top jobs in 2013? What new space launches are planned? What do the major economies of the world look like? These are some of the major questions that MapsofWorld answers in a characteristically insightful infographic.
Mapsofworld.com is one of the worlds largest mapping and content portals and has been an important mapping research aid since 2003. The site has over 25 million map downloads to its credit and has drawn over 66 million visitors till date.
About the company:
MapsofWorld.com is a multilingual portal offering high-quality maps and information across geographies and platforms. With special focus on educational content, the portal has thematic as well as interactive maps on all major platforms: Web, iPhone, iPad, iPod, and Android. World Atlas and World Quiz are two highly successful educational apps have been downloaded. Other services offered are custom mapping, content digitization, and the online map store.
For more information, please contact:

social (at) mapsofworld (dot) com

MapXL Inc.

10 S. Third Street, Suite 310,

San Jose, CA95113