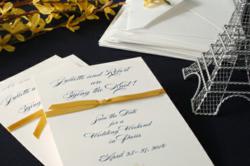 WEST KENNEBUNK, MAINE (PRWEB) December 19, 2012
Tis the season to.get engaged! The merriest season has also become the marrying season. According to TheKnot.com, a leading wedding planning website, December is the most popular month for popping the question, with nearly 20% of couples getting engaged then.
The holidays are such a romantic time of year, shares Gabrielle Trappe, designer of William Arthurs new Weddings Volume I album, which debuts in January, 2013. The lights and celebrations, the sense of unityits a time of promise and hope, so its not surprising that so many couples become engaged at this joyous time of year.
The average engagement lasts 14 months, according to TheKnot. Save-the-dates are typically sent out at least six months before the wedding, to ensure that family and friends can plan accordingly. With destination weddings becoming an increasingly popular choice among couples, save-the-dates have become especially important.
Couples wishing to purchase save-the-date announcements will be able to buy 75 and get 25 free from both the William Arthur and Vera Wang collections, January through March, 2013. The maker of fine stationery offers a wide variety of save-the-dates, from engraved and letterpress-printed cards on custom-made papers to digital notes featuring photographs of the newly engaged couples.
Save-the-dates are a thoughtful courtesy, notes Ms. Trappe. Whether youre inviting people from out-of-town, or planning a destination wedding, its important to give your guests as much notice as possible. The advance notice is greatly appreciated by guests. Many of our customers tell us our save-the-dates are also just a great way to announce their big news, concludes Trappe.
ABOUT WILLIAM ARTHUR