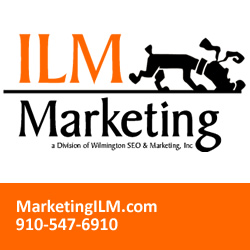 Wilmington, NC (PRWEB) February 07, 2013
ILM Marketing is a new, full service marketing and advertising agency based in Wilmington, North Carolina. ILM Marketing is an evolution of Wilmington SEO & Marketing, Inc., a search engine optimization (SEO) company founded in 2008. What began as a niche SEO business has developed over the years into an internet marketing agency, managing pay-per-click and banner advertising as well as social media, branding, strategy, public relations, analytics and reporting for clients throughout the U.S. ILM Marketing is proud to offer those services and more, including WordPress web design, hosting, email marketing solutions and live chat software.
The rebranding move for ILM Marketing became apparent as their service offerings grew well beyond the scope of their original SEO business plan. Their background and expertise in SEO is still a large part of their focus and serves as a basis for many of the online campaigns they launch on behalf of their clients. SEO is a sound practice that attempts to attract search engines while also employing usability and conversion techniques that are user-friendly and help to generate leads.
As SEO strategies have changed and evolved over the years, it became important to the partners at ILM Marketing that they offer services that would complement their efforts. This full suite of marketing services together with more traditional, offline advertising platforms such as radio, indoor advertising, and billboards, provides the client with a one-stop marketing solution for their business.
While we believe in the power of search engine optimization for any website, we also understand the importance of a diverse marketing strategy, utilizing the full potential of the various marketing and advertising platforms available today, comments Nat Criss, President of ILM Marketing. Companies cant rely solely on one form of marketing so were excited to be able to offer multiple solutions to our clients to market their businesses.
ILM Marketing accepts new clients for any one (or all) of the services they offer. A client may need an optimized website and a pay-per-click campaign or they may need a remarketing campaign for their existing website, conversion optimization to gain more quality online leads, a social media branding campaign, or a monthly email newsletter service. ILM Marketing will customize services as necessary for each unique client.
The agency currently works with companies in the United States and Costa Rica in industries ranging from finance and real estate to home improvement, professional services, and industrial products and services. To learn more about ILM Marketing, please visit http://www.marketingilm.com.