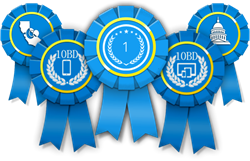 NYC, New York (PRWEB) June 11, 2014
10 Best Design is a highly regarded organization which was born from its founders' belief in striving to reach the potentials of modern web design. They have since grown to serve the top website design companies to more than 250,000 web searchers per year via awards giving out through their proprietary ranking methods.
Of all awarded agencies among 10 Best Design's featured list of the top app development companies, Blue Fountain Media from New York came out on top. Portland-based Forix Web Design and Chicago's Intechnic clinched the #2 and #3 spots, respectively.
The #1 best mobile app design company, Blue Fountain Media, positions itself as the complete solution for companies seeking a strong online presence. Their services span the gamut from web design to mobile app development, online branding, marketing strategy and copy writing. Among other services, Blue Fountain also specializes in email marketing, pay-per-click marketing, and the use of social media for campaigning and marketing.
Forix Web Design specializes in mobile app development. The company's skilled posse of professionals includes a large pool of e-commerce savvy Magento Certified Plus developers, and mobile developers who design and code a wide range of custom apps for different mobile platforms. Through debugging and maintenance Forix strives for ensure error-free execution of its mobile products. The company's team of digital strategists is also available to offer analyses and strategies to help strengthen clients' online presence.
Coming in at #3, Intechnic offers customized web design and development services to a global clientele. Intechnic's customers can choose from an array of comprehensive solutions for web development, hosting, and e-commerce. Intechnic positions itself as a company that acutely understands the role of a formidable web presence in ensuring success. As such, it commits to an ongoing relationship with its customers to achieve that end. Some of Intechnic's clients include Sony Corp., Google Inc., and IMAX Theatre.
10 Best Design is a web design ranking, reviews, and awards organization that also maintains a paid directory of web design firms. 10 Best Design boasts a talented team of online branding, web development, and design professionals who profess proficiency in various of aspects of internet, web, and mobile app development. Rankings and awards are based on 10 Best Design's own Analytic Review Algorithm. In order to be considered for the rankings, companies have to be part of 10 Best Design's member directory.