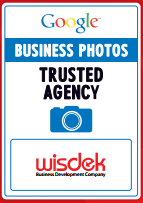 (PRWEB) May 03, 2013
Wisdek Google Advertising Experts have just become the first agency in Canada to be certified as a Google Business Photos Trusted Agency. They have joined a small handful of elite agencies across the globe to offer Googles hottest new service to North America.
The benefits of working with a certified trusted agency over independent photographers are many, with reliability and search engine optimization expertise being among the most compelling, says Vadim Kirichenko, VP of Operations at Wisdek. With this in mind, Wisdek has launched a new set of services designed to foster local traffic generation through the increasingly popular Google+ social network and Google Search.
Not optimizing a business for local online search has a serious impact on day to day sales. Today, most customers reach for Google to review nearby options before taking a single step towards their destination. This makes Google+ Local Listings vitally important to any business hoping to capture new customers and walk-in traffic.
There are very few agencies out there that have made Google+ pages a major focus for social media marketing services, says Kirichenko. With these growth figures, thats going to change.
Google+ is now the second most popular social network, surpassing Twitter and reaching 343 million active users. The beautiful part is, that every piece of content on this platform can be optimized to rank higher on Google. This notion is particularly valuable to Canadian businesses, since 80% of consumers in Canada use Google as their engine of choice.
While most social media marketing is only used to enhance SEO by building customer relationships and developing additional pathways to a companys website, Google+ can easily function as a business website on its own. Developed correctly, using all the bells and whistles like Google Business Photos, images, videos and more, Google+ pages offer a dynamic space where customers can learn everything they want to know about a company.
Also, Google+ pages rank well and help your website rank well on Google. After all, Google knows the value that its engine brings to surfers, why wouldnt they offer a little nepotism to their social network offspring? As the second most popular social network, this would be a good strategy for Google to bump Facebook out of the lead, if that was their goal.
Google+ pages offer strong online currency, meaning their links are valuable for website SEO as well as capturing local business. Our Google+ optimization services not only generate more online traffic to our clients websites and social pages; but they help our clients capitalize on the very nature of these products, which is to attract local business using Google Maps in addition to Google Search, explains Eran Hurvitz, Wisdeks VP of Sales. This offers more than multiple presence on the first page of Google Search; it gives clients the opportunity to drive online traffic from multiple layers of the Google platform, throughout its many pages like search, images, maps and more. This approach is already generating significantly more leads for real-world business locations in the form of walk-ins according to our clients, Hurvitz adds.
Google Business Photos offer a 3D virtual tour of a business, says Ryan Judd, Director of Sales at Wisdek, they build trust in the minds of consumers by inviting them inside both virtually, and then, in reality. Researching the quality of a company is one of the most popular reasons people look online. Google Business Photos offer businesses a level of legitimacy not previously established in the digital world. If you invested in an impressive boardroom, wouldnt you want to show it off? Trust is a major factor affecting the conversion of online visitors into real-world sales. Google Business Photos build this trust by eliminating the guesswork about a business, showing it off online for all to see.
If youre a photographer and would like to get certified under Wisdek Google Business Photos Trusted Agency, or if you would like to learn more about Google Business Photos for your venue call us at 1-877-947-3351
sources:

http://marketingland.com/report-google-now-2nd-biggest-social-network-worldwide-31908