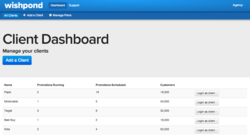 Vancouver, BC (PRWEB) December 03, 2012
Wishpond today announced the launch of the Wishpond Agency Program that brings together, under one umbrella,all the tools agencies need for social, mobile, online and local marketing for their clients.Now Agencies can leverage Wishpond, which is already being usedby more than 15,000 Retailers and Brands, to help their clients with a broad array of online marketing activities including running ads, sweepstakes andcontests, creating Social Stores, engaging fans via social networks like Pinterest, and analyzing prospect engagement and demographic patterns.Details of Wishpond Agency Program can be viewed at (http://corp.wishpond.com/agencies/corp.wishpond.com/agencies/).
Wildfire, Payvment, Buddy Media and North Social have brought some aspects of online marketingtools to Agencies over the years, but Wishpond is the first to integrate all of these tools together into a single suite, making them available across social, mobile, online and local channels.With Wishponds All-In-One Marketing Suite, agencies now have a single place where they can create, manage and run all of the tools they need to address each of their clients unique needs.Not only does the suite provide the broadest set of online marketing apps available , the suite is fully customizable, can be white labeled, and provides a full service option.
Helping clients grow and engage their customers through online marketing activities like social promotions and product engagement can be cost and time intensive for agencies said Ali Tajsekandar, CEO of Wishpond. Our new Agency Program streamlines this process and makes it exceedingly simple for agencies to manage multiple campaigns across various channels for every single one of their clients.
All-in-One Marketing Suite
Wishpond empowers Agencies to help their Retail and Brand clients to attract, analyze, and sell to customers more effectively than ever before. The company integrates the tools needed for businesses to easily attract and convert customers – promoting their products across social, mobile web and local channels.
The Wishpond All-In-One Marketing Suite is pre-integrated withSocial Platforms, (Facebook, Twitter, Google+, Pinterest),Blogging Platforms (WordPress), and E-commerce Platforms (eBay, Paypal, Shopify, Etsy, and Magento) to simplify an Agencys work.
Wishponds All-In-One Marketing Suite includes: