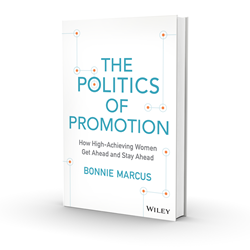 Wilton, Conn. (PRWEB) March 24, 2015
Today, Bonnie Marcus, M.Ed., releases The Politics of Promotion, which is the first-ever book to provide women the steps to become savvy and succeed in workplace politics without compromising their integrity or feminine traits. In The Politics of Promotion, Marcus reveals how women can break into the power circles and influence decisions that affect their careers.
Marcus, an award-winning entrepreneur, dynamic thought leader on women in the workplace and president of Womens Success Coaching, an executive coaching firm that specializes in helping women navigate the realities of the workplace and advance their careers, developed the framework she shares in The Politics of Promotion based on her own business experience in her 20+ years in sales and management.
There isnt any topic in the workplace that brings up more frustration for women than office politics. But, the avoidance of workplace dynamics can put them in a very vulnerable position, said Marcus, who is a contributing writer for Forbes and Business Insider and a sought-after national and international speaker on women in the workplace. 'The Politics of Promotion' shows women how to navigate office politics successfully, build and nurture key relationships, get comfortable with self-promotion, avoid potentially disastrous blindsides and ultimately, advance their careers.
Available now on Amazon.com, Barnes and Noble.com and 800CEOREAD, "The Politics of Promotion" reveals how professional women can:

-Identify their value proposition.

-Effectively and authentically promote themselves without backlash.

-Build relationships of influence and position themselves with key stakeholders.

-Network with power and intent, especially with those who have power over their advancement.

-Find allies, champions, sponsors to move their career forward.
Advanced praise for The Politics of Promotion includes the following.