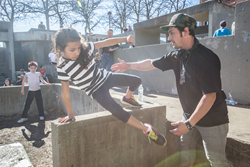 Las Vegas, Nevada (PRWEB) April 27, 2015
2013 Red Bull Art of Motion Champion, Cory DeMeyers and #1 ranked Youtube video blogger, Jesse La Flair, will make their 11th stop on Tuesday April 28th in Las Vegas, Nevada as part of their 15-city North American Off The Edge Tour to promote their passion for parkour and freerunning, and showcase their Kickstarter funded documentary From Here to There. Joining them are two of the top parkour athletes in the world multiple Red Bull Art of Motion Champion Jason Paul from Germany, and Team Farang founder Anan Anwar from Thailand.
This project has been a labor of love for both Cory and I, explains La Flair. We have put our entire lives into this. We started over a year ago in Europe and now over 25 cities later we are in Las Vegas. This is a dream come true. We have met so many people along the way. From kids to parents all of them have inspired us and we have been overwhelmed by the support and the growth of parkour and freerunning not only as a sport but as a lifestyle. It is creating new communities everywhere and the energy is so positive unlike so many other sports. We love this more than anything about our sport.
Jesse and Cory are both members of pioneering American parkour and freerunning team, Tempest, based in Los Angeles, California. Tempest was one of the first groups to open gyms in the United States, recognizing early on the potential for growth of the discipline. La Flair and DeMeyers are just the latest Youtube sensations from the team which spawned a successful business and careers for its members in the Hollywood film industry.
Our tours goal is not only to spread awareness about parkour and freerunning to a new generation, but to also make businesses aware that we are more than a viable vehicle for their message, explain DeMeyers. The word is starting to spread. We are so thankful to Kicker Audio, Camp Woodward & Woodward Parkour Program and Caveman Coffee who were instrumental in making our tour happen. But we need more business to sponsor atheletes, events and initiatives like ours. The returns are quantifiable in the views, likes and hits our social media chanels, videos and photos get every minute. More than most other sports.
The Off the Edge Tour bus will arrive in the Sin City on Tuesday April 28th, 2015. La Flair and DeMeyers, along with all athletes will hold a free jam starting at the UNLV campus at noon. Admission to the jam is open to the public. In the evening the crew will be at t Beauty Bar with OK GO! as the evenings guest DJ's for the Coldcock Whiskey official after party.
For more information on the Jam and Screening for New York, click Tinyurl.com/GoingOTELasVegas
About Off The Edge:

The Off The Edge World Tour is the worlds Largest Freerunning & Parkour tour. OTE was designed to be an interactive event that not only provides an engaging and exciting experience for its attendees, but also will continue to reach millions across the internet with its inspiring Youtube series. To find out more visit http://offtheedgeworldtour.com/ or follow them on https://www.facebook.com/GoingOTE and Instagram- @GoingOTE
About From Here to There:

From Here to There is a documentary about friendship, freerunning and following your dreams. Jump into the lives of professional freerunners and best friends Jesse La Flair and Cory DeMeyers as they travel the globe and overcome the hardships of chasing their dreams in the fastest growing action sport in the world.

To find out more visit http://fromheretotherestore.com/ or follow them on https://www.facebook.com/fromheretotheredoc/timeline and Instagram- @fh2tdoc
Press contact:

ROCK Group PR +1 (305) 751-5085

Roch Nakajima roch(at)myrockgroup(dot)com

Alex Alvarez alexal(at)myrockgroup(dot)com

http://www.myrockgroup.com