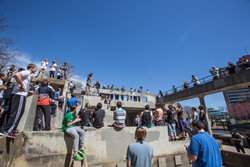 Boulder, Colorado (PRWEB) April 23, 2015
Join 2013 Red Bull Art of Motion Champion, Cory DeMeyers and #1 ranked Youtube video blogger, Jesse La Flair, as they make their 10th stop in Colorado on their month-long North American adventure promoting parkour and freerunning, and inspiring a new generation of extreme athletes. On Friday April 24th, their Off the Edge tour will take them to Boulder, Colorado where they will host a screening of their documentary, From Here to There at the AMC Westminster Promenade 24, followed by a day long jam at APEX Movement Parkour Academy in Boulder with fellow freerunners and fans. Joining them are some of the top parkour professionals in the world including multiple Red Bull Art of Motion Champion Jason Paul from Germany and Team Farang founder Anan Anwar from Thailand.
Colorado is one of the hubs for Parkour and Freerunning in the USA explains La Flair. We have a lot of friends here who are part of and regularly train at APEX. Ryan Ford, his group and his gyms have been have been a huge part of the freerunning community, not only up here, but nationwide. They host regular competitions and have one of the best training programs for certifying coaches. They do anything possible to promote the sport, which is why were here. This is what the Off The Edge Tour is all about – community, friendship and a passion for parkour and freerunning.
Jesse and Cory are both members of pioneering American parkour and freerunning team, Tempest, based in Los Angeles, California. Tempest was one of the first groups to open gyms in the United States, recognizing early on the potential for growth of the discipline. La Flair and DeMeyers are just the latest Youtube sensations from the team which spawned a successful business and careers for its members in the Hollywood film industry.
Our tours goal is not only to spread awareness about parkour and freerunning to a new generation, but to also make businesses and companies aware that we are more than a viable sponsorship vehicle for their message, explain DeMeyers. We find it hard to comprehend that parkour and freerunning videos are some of the most viewed content on social media, and have been for years. We have proven we are not a fad. We are here to stay. There are even talks of Olympics and X-Games competitions, yet our events and athletes are still struggling to find a few dollars. We are here to change this.
The Off the Edge Tour bus will arrive in Boulder on Friday April 24th, 2015. La Flair and DeMeyers, along with fellow athletes will be screening their documentary From Here to There, following La Flair and DeMeyers European adventures leading to their podium victory at the 2013 Red Bull Art of Motion in Santorini Greece will be held at AMC Westminster Promenade 24 from 11am to 12:20pm (10655 Westminster Blvd., Westminster, CO, US, 80020). Seats for the screening will sell out. The Jam will be held at APEX Movement Boulder from 2pm-5pm (3850 Frontier Ave Suite 250, Boulder, Colorado 80301). Admission to the jam is open to the public and will be $ 30 paid at the door ($ 15 with proof of FH2TDoc Ticket Purchase).
For more information on the Jam and Screening for Boulder, click Tinyurl.com/GoingOTEBoulder
About Off The Edge:

The Off The Edge World Tour is the worlds Largest Freerunning & Parkour tour. OTE was designed to be an interactive event that not only provides an engaging and exciting experience for its attendees, but also will continue to reach millions across the internet with its inspiring Youtube series. To find out more visit http://offtheedgeworldtour.com/ or follow them on https://www.facebook.com/GoingOTE and Instagram- @GoingOTE
About From Here to There:

From Here to There is a documentary about friendship, freerunning and following your dreams. Jump into the lives of professional freerunners and best friends Jesse La Flair and Cory DeMeyers as they travel the globe and overcome the hardships of chasing their dreams in the fastest growing action sport in the world.

To find out more visit http://fromheretotherestore.com/ or follow them on https://www.facebook.com/fromheretotheredoc/timeline and Instagram- @fh2tdoc
Press contact:

ROCK Group PR +1 (305) 751-5085

Roch Nakajima roch(at)myrockgroup(dot)com

Alex Alvarez alexal(at)myrockgroup(dot)com

http://www.myrockgroup.com