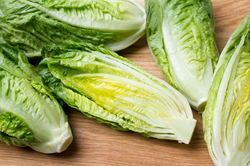 New York, New York (PRWEB) April 27, 2015
World Patent Marketing, a vertically integrated manufacturer and distributor of patented products, launches Lettuce Entertain Them, a food invention that allows food stylists, food exhibitors, and restaurateurs to display real-looking lettuce in restaurant store fronts.
"Forty percent of the food we grow ends up in the garbage. One billion people are hungry," said Scott J. Cooper, CEO and Creative Director of World Patent Marketing. "The next food revolution is about what you're not eating. There will always be a percentage of food grown that is not consumed. But there are also many ways to prevent unnecessary loss."
"Modern times is seeing an increased use of fake food." says Cattya Bella, Director of Product Development for World Patent Marketing, "Our mission is to give people spanning the globe the opportunity to own and enjoy for themselves this time-honored craft of producing the most authentic looking food invention known to man.
This is a revolutionary method that allows the display of real-looking lettuce without spending thousands of dollars, says Cattya Bella, Director of Product Development at World Patent Marketing. This food invention imitates the look and feel of real lettuce. Restaurant owners and produce sellers will be able to come up with attractive looking displays without wasting food and money.
The process of making realistic display food decor involves an entire industry covering literally thousands of fake food replicas and some well known brand names. Within this myriad of fake food products there are fake food props for movies to fake food toys for kids. The authenticity of fake food products has improved to the point that most people are unable to tell the difference between fake food and real thing without actually touching it.
Lettuce Entertain Them is a creative and eco-friendly food invention which revolves around the use of lettuce for food presentations. Instead of using fresh lettuce heads or lettuce leaves for food decoration, the imitation lettuce would be used. Too often, when lettuce or any other food item is used as a decoration, nobody eats it afterwards; the food spoils while still on the table. For a lot of organic farmers, this runs counter to the idea of waste not, want not.
Lettuce Entertain Them is revolutionary due to the quality of the reproduction, says inventor Elizabeth L. Additionally, the imitation lettuce can be displayed either as a whole head of lettuce, or as separate leaves so that it can be used as a base for the display. This food invention can go a long way because it is reusable.
Linda Torres, a food blogger from New York also noted that this is much better than the fake vegetables or fake fish you see in Japanese restaurants. It looks very real, and is very appetizing.
This food invention can have a lot of uses and it does not have to stop at imitation lettuce. It could later be refined and used with other wide-leaf vegetable or with other food presentations.
About World Patent Marketing
World Patent Marketing is a vertically integrated manufacturer and distributor of patented products. The company offers manufacturing, distribution, patent prosecution, IP valuation, licensing, trading, investment and other services. The company offers these products to independent inventors, law firms and venture capital-backed companies. The company is well known for evaluating the commercial potential of utility and other patents in the United States and around the world. The company directly engages in the business of retail, distribution and the retail sale of products.
World Patent Marketing Achievements
World Patent Marketing is the only patent services company in history to be awarded a five star review rating from Consumer Affairs, Google, Trustpilot, Shopper Approved, Customer Lobby and ResellerRatings.com. World Patent Marketing has received accredited status and is an A Rated Member of the Better Business Bureau. World Patent Marketing is also a proud member of Dun and Bradstreet, the US Chamber of Commerce, the Association for Manufacturing Excellence and the International Licensing Industry Merchandisers' Association (LIMA). World Patent Marketing Miami is also a member of the South Florida Chamber of Commerce, the Greater Miami Chamber of Commerce, and the Miami Beach Chamber of Commerce.
Check Out World Patent Marketing Tradeshows