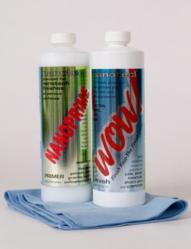 Hackensack, NJ (PRWEB) August 17, 2012
What is Nano-Technology? This new technology is the science of manipulating materials on a very, very, very small level.
Online merchant Helmar Distributors is on the cutting-edge of this new technology by offering Nanotech Wow!– a finish that beats waxes and polishes.
Nanotech WOW! is designed to provide the greatest surface protection in the most environmentally friendly way. Its polymer particles are so fine, they bond to and penetrate any surface better than any regular polishes on the market.
How does this Nano-technology work?
Scientists have been studying this phenomenon taking their cues from nature by observing the lotus flower. The lotus flower has a very high water repellence exhibited in the leaves. Dirt particles get picked up by water droplets on the leaf. The complex micro and nano-scopic architecture of the surface of the lotus flower leaf minimizes adhesion, which results in a clean surface.
The main volume in the Nano-tech solution of WOW! is water or alcohol. Through self organizing anti-adhesion components, the 'nanos' form an invisible barrier similar to glass. Only the 'nanos' remain on the sealed surfaces while the water or alcohol evaporates. All nano particles are heat resistant up to 300 degrees Celsius or 572 degrees Fahrenheit.
Conventional polishes are limited when it comes to surface coverage and protection. Highly concentrated nano finish particles have phenomenal surface coverage and penetrate deeper and evenly. This means a longer-lasting shine and better protection.
WOW! makes maintenance of a boat easier by sealing the surface and offers an invisible protective barrier that simply does not wear off like polish does. WOW! can be applied to any surface above or below the water line. It provides UV protection and reduces friction for better mileage and less drag.
This most advanced finish known is eco-friendly, safe and easy to use. Application and clean-up is a breeze. It beats any traditional waxes and polishes.
Order Nanotech WOW! Finish now!
Nanotech WOW! can be used on Boats, Kayaks, Jet Boats, Jet Skis and more.