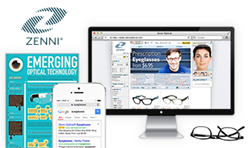 El Segundo, CA (PRWEB) October 16, 2014
On October 8, 2014, the winners of the 2014 US Search Awards were announced at Treasure Island in Las Vegas, NV. Topping the list of honorees was Wpromotes ongoing online marketing campaign for Zenni Optical, which took home the prize of Best Integrated Campaign. The contest, now in its second year, awarded top agencies and marketing teams from across the country with the honor of being named the best in their elected category. Categories included Best Local Campaign, Best PPC Campaign, Best In-House Team, and Wpromotes winning category, Best Integrated Campaign.
Established in July of 2011, Wpromote and Zenni Opticals working relationship has always been rich and multifaceted. Over the past three years, Wpromote has managed services such as Paid Search, Content Marketing, Display Ads, Email Marketing, Social Media, and Facebook Advertising for the acclaimed eyewear manufacturer. Zennis original business goal was ambitious: outsell other name brand online retailers to become the top-selling online optical retailer. Wpromote stepped up to the challenge with a complex and driven set of projects that would eventually become the award-winning campaign submitted to the US Search Awards.
Wpromotes Zenni Optical campaign won on the strength of its carefully refined strategy, outside-the-box creativity, and above all, stunning results that demonstrated the campaigns massive and long-lasting success. The leading national online marketing firm reported that [Zenni saw] a 155% increase in ROI and a 359% increase in volume in less than a year. These and other revenue, budget, and sales metrics far exceeded the original objectives Zenni had set.
The driving force behind the campaign was Wpromotes signature philosophy known as Integrated Search Intelligence (ISI), which combines human expertise with data-driven decision making. Wpromote used ISI to develop Zenni Opticals strategy, which began by finding the keywords and phrases for paid search that were most resonant with Zennis audience. The campaign used these insights to inform SEO and content marketing. Those SEO and content marketing decisions were then used to guide Zennis PPC campaigns and help segment audiences for display ads. A constant feedback loop of one channel informing another kept the campaign inventive and fresh, ensuring that new promotional and social media initiatives gained traction and saw success. The entire campaign was integrated in this innovative way, leading to its big win at the US Search Awards.
David Varnai, Zenni Opticals Marketing Manager, praised the Commerce Agency by saying, This award demonstrates why Wpromote was and still is the best agency for Zenni. Theyve given us incredible returns on our investments quarter-over-quarter, year-over-year.
This year marked Wpromotes first entry into the US Search Awards contest, as well as its first win. For more information about the contest as well as a list of the other categories and winners, visit http://www.ussearchawards.com/Winners.
About Wpromote