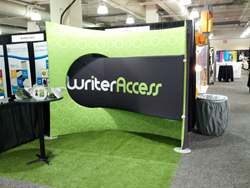 Boston, MA (PRWEB) May 29, 2014
Byron White, founder and Chief Idea Officer of WriterAccess, the Boston-based content marketplace that matches clients and freelance writers, brought a team of content marketing specialists to the HOW Design Live 2014 conference in Boston. Held May 12-16 at the Hynes Convention Center, the conference set attendance records thanks to its stellar line-up of world-renowned designers, thought leaders, and branding experts.
While the conference focused on inspiring attendees to become more successful designers, WriterAccess felt it was crucial to demonstrate how to incorporate the elements of creative writing into the process. The content management company sponsored a booth where they explained how designers can hire freelance writers to improve the effectiveness of their creative presentations. They also distributed copies of Whites books, The Content Marketing Roadmap and The Professional Writing Skill Price Guide, as well as the WriterAccess Content Marketing Kit.
I think our whole team had a great time talking to customers, prospects, and designers, as well as attending informative sessions, commented White. What really struck me the most, though, was the opportunity to meet one-on-one with all of these design professionals. Designers and writers dont live in two separate worlds when it comes to creating effective marketing campaigns. We have to work together to create campaign components that will catch the prospect audiences attention and motivate them to take a desired action for the client.
HOW Design Live is the biggest design event in the nation, with over 3000 attendees converging to network, visit sponsors, and gather insights from 80+ speakers and sessions. The conference featured five design events including the HOW Design Conference, The Dieline Conference, a HOW Leadership Conference, an In-House Management Conference, and a Creative Freelancer Business Conference.
White also hosted a session, How Agencies Sell Content Marketing Services and Deliver Performance, where agencies could learn how to turn content into success for their clients. Topics included how to pitch content services to clients, manage the workflow and automate the process, measure performance, and deliver the ROI. White also explained how agencies can hire freelance writers to increase their marketing success.
Based on its success this year, WriterAccess is considering attending next years event, HOW Design Live 2015, which is already scheduled for May 4-8, 2015 in Chicago.
WriterAccess is an online marketplace connecting customers directly with expert writers. It's a Platform-as-a-Service developed by ideaLaunch, a leading provider of content marketing services and solutions. The companys mission is to streamline content creation with great writers and editors that all have the passion, expertise and experience needed to help grow a business organicallythe content marketing way. Visit the website or call 617-227-8800 for further information.