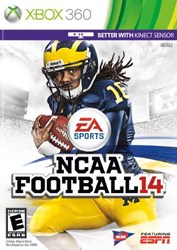 New York, NY (PRWEB) May 08, 2013
SportsFanPlayground.com announced on Wednesday that the store is offering markdowns of 32% off on Xbox Live 12-month membership cards, as well as taking preorders on the upcoming games for the Xbox 360 and Playstation 3 – Call of Duty: Ghosts, Assassin's Creed IV: Black Flag, NCAA Football 14, and Madden NFL 25.
The Xbox Live 12-month membership cards allow for gamers to play online against each other, as well as purchase and view video content directly on their TV systems. Along with playing games online, the Xbox Live membership card allows for gamers to use Netflix, Hulu Plus, Facebook, YouTube, WWE, ESPN, UFC and Nickelodeon apps, among others. SportsFanPlayground.com has the 12-month membership cards available for $ 41.08 through Wednesday.
The store is also taking preorders on a variety of upcoming games, including the new Call of Duty: Ghosts, due out in November. The game is the newest installment in the popular Call of Duty series of games by Activision, with the latest version being Call of Duty: Black Ops II. Call of Duty: Ghosts brings in a new game engine, new characters and a completely new storyline.
The new NCAA Football 14 game by EA Sports, featuring former Michigan quarterback Denard Robinson on the cover, will be released on July 9 for the Xbox 360 and Playstation 3. The game features a variety of new presentation enhancements including the enhanced involvement of ESPN elements.
With new commentary by ESPN broadcasters Brad Nessler and Kirk Herbstreit, along with halftime updates from ESPN's Rece Davis and David Pollack, the game will mimic an actual ESPN TV presentation better than ever before. The broadcasters will be able to put the focus on star players, conference leaders in certain categories, and trends that are taking place throughout the duration of the game.
The game also features specialized stadiums for special games including the Kickoff Classic, Cowboys Classic and other neutral site games with NFL stadiums included in the game including Cowboys Stadium, Georgia Dome, Soldier Field, M&T Bank Stadium, and Metlife Stadium, among others. The game also features special designs and announcements for each of the individual bowl games.
For the first time ever, NCAA Football 14 will have popular stadium anthem songs "Zombie Nation" and the White Stripes' "Seven Nation Army" playing throughout various points of the game, giving the game true gameday authenticity.
For more information, please visit SportsFanPlayground.com.
On Social Media –
Facebook – Facebook.com/sportsfanplayground

Twitter – Twitter.com/sportsfanplay

Pinterest – Pinterest.com/fanplayground

Google Plus – Plus.google.com/115104847008351751780
About SportsFanPlayground.com –
The Sports Fan Playground is a leading provider of sporting goods for baseball, basketball, football, hockey, volleyball, golf, soccer, bowling and other top recreational sports. The store also has a variety of fan apparel for the NFL, NHL, MLB, NBA, NCAA, UFC and WWE, including jerseys, hats, jackets, sweatshirts, home and garden items, tailgating materials, and thousands of sports memorabilia. The store is also a leading provider of outdoor materials including for hunting, fishing, camping, hiking and boating.
SportsFanPlayground.com is also a leading provider of top quality electronics products including video games for the Xbox 360, Playstation 3, Playstation Vita and Nintendo Wii U; LCD, LED and Plasma TV sets from Sony, Samsung, LG, Vizio, TCL, Sharp and others; notebook computers, computer networking hardware from Cisco, Lenovo, Microsoft and more, home theater systems, home entertainment furniture, tablets and more.
For more updates on recent announcements with the Sports Fan Playground, please view our other releases on PRWeb.com.