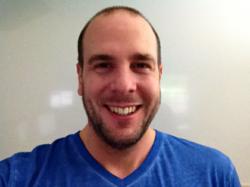 Sydney, Australia (PRWEB) February 06, 2013
Successful entrepreneur James Schramko may have a wealth of knowledge and years of experience in building a company and cementing his presence in the highly competitive online business scene, but that's certainly not all he's got. The SuperFastBusiness.com CEO also has a commitment to keep his body healthy and fit, and he encourages fellow marketers to step away from the computer and follow a quick and easy yoga exercise presented by a certified yoga instructor in a recent news video on FastWebFormula.com.
In an earlier news update filmed at the recently concluded Traffic and Conversion Summit in San Francisco, California, Schramko points out how Internet marketers and online business owners tend to sit at their desks or hunch over their laptops at various locations for most of their daysa sure recipe for all kinds of aches and pains. "So while Im at this event, Ive been walking around a bit and Ive been standing at the back of the (conference) room rather than just sitting all day to mix it up and to make sure that Im keeping that blood flowing," the CEO described.
"So if youve been sitting at your computer for more than an hour or so, its probably time to get up, walk around a bit, maybe do some weights, or go for a ride or walk the dogmix in that exercise so you stay healthy."
For the latest video news instalment, Schramko brings in certified yoga instructor (and incidentally, his brother-in-law) Manu straight from India to guide website visitors through "Yoga Manu's Yoga Minute" and get their bodies revved and physically stimulated.
Manu demonstrates two simple yoga stretches that can help address common body issues experienced by professionals who spend most of their time seated and inactive. "For the first stretch: if youve been sitting at the computer desk, on your chair, then your spine is probably compressing," he describes. He proceeds to show viewers how to stand up with the knees soft, hold their hands to their heart, and slowly do a basic twist to the right. After holding the pose for a few seconds (with shoulders relaxed and not shrugging), he then returns to center, slowly twists to the left side, and holds the pose for the same count before once again returning to center.
The second stretch is for the hip flexors, which are often contracted for prolonged periods when a person is seated. To target this area, Manu recommends putting the hands on the hips or stretching them high above the head and then doing a gentle tilt to one side. "Remember to stay connected to your feet. Hold it, and then breathe in and breathe out to the other side," Manu says.
"Youre allowed to even look down to see if you're off balance…If you feel strong in your core, you can also do a little gentle lift and arch," he adds.
With just a few basic moves that can be accomplished in under two minutes, anyone working away at a computer for the greater part of his day can experience better health and renewed energy. "Step away from your computer, do your exercise, then come back and post a comment right near these video," Schramko encourages viewers. "If you like this, I will have Manu come back and do some more exercises for us."