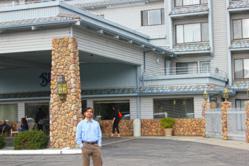 (PRWEB) September 04, 2012
Local hotelier Raj Patel, who owns and operates the Yosemite Southgate Hotel in Oakhurst among others throughout California, is getting ready to launch a new booking platform aimed at helping hoteliers sell rooms more economically.
While many services exist, Patel explains that INNsight.com is different because it is crafted and operated from the perspective of a hotel owner as opposed to a third party looking out for their own bottom line.
We really started this venture after not only seeing the exploitation of innkeepers by online travel agencies and franchisors, but also directly being affected by the limitations of technology offerings for hoteliers with smaller hotels, says Raj.
I think the inefficiency of online bookings is easily demonstrated by the egregious 15-30% commissions innkeepers are forced to pay just to put heads in beds.
The result, according to Patel, is a service that benefits the hoteliers as well as guests, because lower transaction costs for the hotelier lead to lower rates for the traveler.
Innkeepers lose out because their margins get eroded and travelers lose because this inefficiency forces them to inflate their rates just to make their mortgage payment. There are definitely price fixing forces at play and major gaps in the online booking of hotel rooms. INNsights goal is really to disrupt these forces and make online bookings more efficient for both innkeepers and travelers, he says.
INNsight.com is the brainchild of Raj Patel, CEO and founder of INNsight Hospitality Group and previously a Senior Strategy Manager at eBay, his brother Roshan, ex-Googler Dharmesh Patel, and product manager Nick Shah.
The Platform is an Online Marketplace and Internet Marketing Toolkit which allows INNkeepers to list, promote, and sell their room inventory online.
Not only does the service offer unprecedented ease of use, said Patel, INNsight.com offers a full end-to-end solution providing search engine optimized web design, website hosting and management of Search Engine and Social Media Marketing while promoting room inventory in a booking marketplace with industry low commissions.
In an effort to introduce innkeepers to the new service, The Team is offering them a chance to try INNsight.com and pay no commissions over the first three months of their subscription.
We think this is a very strong offer just to sign upan hotelier can easily save thousands of dollars in cost over time as their sales ramp on our platform, said Dharmesh.
The INNsight Team also promises to continuously innovate and bring new technologies not only to searching for the perfect hotel room and online bookings, but also to check-ins, social media and in other hotel technologies.
Having been born and raised and educated in Silicon Valley means we have creativity running in our blood, said Raj.
Weve got a ton of great innovative ideas we want to bring into online bookings of places to stay with INNsight.com.
Innkeepers interested in learning more about INNsight as the team prepares to launch the new service can go to http://www.innsight.com.