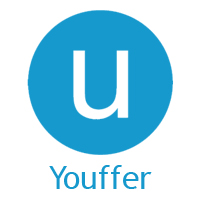 West Palm Beach, Florida (PRWEB) February 02, 2015
A Youffer you cant refuse.



Social networks have always revolved around users sharing their life online but have never focused on users sharing what they really need.

And businesses are always looking for convenient ways to engage with clients who seek the services that they offer.
Enter Youffer: a new marketplace where businesses can connect with clients who are interested and verified. Youffer means that businesses do not have to waste resources by promoting their service online to potential clients any more.
With Youffer you get:

1. a new social network with an abundance of clients who have expressed a variety of specific needs.
2. a simple way for businesses to connect with relevant clients through a brilliant and swift CRM system.
3. a ranking system to ensure that interactions through Youffer are high quality and constructive.
The most direct and effective way for firms to engage with the right people is through Youffer. Be a Youfirm and make your business more efficient by connecting with clients the Youffer way.
Signing up to Youffer is free
All you need to do is go to our web app at http://www.youffer.com or download the app to your iPhone or android.