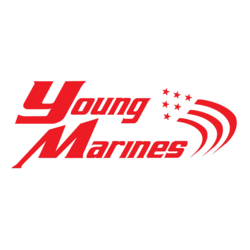 Washington, DC (PRWEB) February 01, 2013
Young Marines MGySgt Storme DiGiovanni of Kailua, Hawaii, and Young Marines GySgt Giovanni Mattucci of Baltimore, MD, are the winners of the Young Marines Jimmie Trimble Scholarship Award.
The award is presented annually to one male and one female Young Marine who exemplify the fine qualities of James "Jimmie" Trimble III. Trimble died on March 1, 1945, at Iwo Jima at the age of 19.
The scholarships were presented at a black tie event hosted by the Young Marines organization at the American Veterans Center in Washington D.C.
Both scholarship winners will travel to Guam and Iwo Jima on March 7, 2013, for the annual Reunion of Honor trip. They will join the six division winners who have been named Young Marines of the Year; the national Young Marine of the Year SgtMajor McCall Beringer; and Mike Kessler, national director and CEO of the Young Marines.
"Jimmie Trimble epitomized the fighting spirit of that generation of Americans, Kessler said. He gave up a life of professional baseball because he was called upon to serve his country. We are grateful to the American Veterans Center for keeping his spirit alive and for allowing the Young Marines to play a key role in that effort. Our two recipients reflect the kind of spirit that Jimmie personified, and we are excited to be able to take them to Guam where Jimmie Trimble left such an impact."
Scholarship winner YM SgtMaj Storme DiGiovanni
YM SgtMaj Storme DiGiovanni, 18, joined the Young Marines in 2006 at Camp Foster, Okinawa, Japan. She graduated from boot camp and was promoted meritoriously to the rank of YM PFC.
Within the first two years of being in the program, she picked up rank very quickly. When she moved from Okinawa in 2008 she had already reached the rank of YM SSgt.
She then moved to Maryland and joined the Upper Marlboro Young Marine unit. She attended Senior Leadership School in October of 2008 at Cherry Point Marine Corps base in North Carolina.
In the summer of 2012, DiGiovanni moved to Hawaii and opened up a unit, the Pyramid Rock Young Marines on Marine Corps Base Hawaii, Kaneohe Bay. In October of 2012, she attended the Veterans Conference in Washington DC.
Last December, during Pyramid Rock Young Marines first recruit graduation, she was awarded the Distinguished Order of Merit which is the highest award in the Young Marines program.
DiGiovanni is currently a senior at Kalaheo High School and will graduate in May 2013. She is hoping to attend the University of Hawaii next fall.
Scholarship winner YM GySgt Giovanni Mattucci
YM GySgt Gianni Mattucci joined the Young Marines as an eighth grader in March, 2009. That June, he was named the honor graduate of his recruit class. During the four years hes been a Young Marine, he has attended Junior, Senior and Advanced Leadership Schools, and hes also achieved over 30 ribbons and awards.
In August of 2012, Mattucci traveled to Arizona to take part in Navajo Code Talker Day, at which he presented the president of the Navajo Code Talkers Association with a folded American flag in recognition of dedicated service.
Last October, he attended the 2012 National Leadership Symposium to meet with the top 14 Young Marines in the nation to brainstorm ideas to improve the program.
Today, Mattucci is an honor student at Calvert Hall High School where he maintains a 3.9 grade point average. He is a member of the German Honor Society, and he received a varsity letter in academics as well as a JV letter for the yearbook committee and theatre tech crew.
Remembering Jimmie Trimble
Jimmie Trimble was a star athlete. He played football, captained the basketball team and stunned crowds with his pitching. He caught the attention of Senators' owner Clark Griffith who invited him to a tryout during his senior year of high school. Griffith gave him a $ 5,000 signing bonus and agreed to pay for a four-year scholarship at Duke University.
But rather than playing professional baseball, Trimble wanted to first serve his country. A private with the Third Marine Division, he was sent to Guam following the liberation of that country.
When the campaign for Iwo Jima was announced, he wanted to get in on the action.

He volunteered for a dangerous mission and was killed by a suicide bomber who jumped into his foxhole.
Two months after his death, Baza Garden Baseball Field, Third Marine Division's home ground on Guam was renamed Trimble Field.
"Private Trimble was an outstanding member of the Third Marine Division All-Star baseball team," Major General Graves Erskine, division commander, said at the time. "His name will not be forgotten and his brave spirit will continue to inspire us in the tough battles that lie ahead."
Sixty years after his death, on March 12, 2005, a crowd of 1,000 people gathered at a new baseball field on Guam to see it named Trimble Baseball Field.
"As part of the Yona, Guam, community," said President Bush in remarks read at the dedication, "this baseball field will serve as a lasting tribute to Private Trimble, a talented baseball player and outstanding Marine whose exemplary service in combat reflected how he lived his life with character and courage."
The Young Marines is a national non-profit 501c(3) youth education and service program for boys and girls, age eight through the completion of high school. The Young Marines promotes the mental, moral and physical development of its members. The program focuses on teaching the values of leadership, teamwork and self-discipline so its members can live and promote a healthy, drug-free lifestyle.
Since the Young Marines' humble beginnings in 1959 with one unit and a handful of boys, the organization has grown to over 300 units with 10,000 youth and 3,000 adult volunteers in 46 states, the District of Columbia, Germany, Japan and affiliates in a host of other countries.
For more information, visit the official website at: http://www.YoungMarines.com.