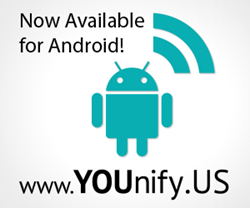 Waterloo, ON (PRWEB) September 23, 2014
Cubit Labs is pleased to announce YOUnify for Android is now available in the Google Play Store.
The popular cross platform contact sharing app first appeared on BlackBerry back in March of this year, gleaning a solid 5 star rating in BlackBerry World and glowing reviews online.
"Sharing contacts has never been so easy and I highly recommend this for exchanging contact details in only a few steps." – CrackBerry.com

View full App review here: http://crackberry.com/younify-blackberry-10
YOUnify is the simplest and most efficient way to share contact information and social networks between any smartphone. Using NFC and QRCodes, in 2-3 steps share your contact information regardless if receiving phone has YOUnify installed. YOUnify is private because its peer to peer, your contact details are injected in to the recipients native address book where its instantly actionable.
YOUnify for Android allows for seamless sharing of up to 5 different digital business cards for work or personal contacts with a simple tap or a scan says Cubit Labs Founder, Darlton Myers Maybe you also have a home base business, or share contact information for an Executive Assistant or a colleague often, YOUnify lets you instantly share specific contact details for various audiences
Features include:

Share with any smartphone that supports NFC or has a QRCode scanning app
Create up to 5 contact profiles
Set a default profile that will auto-launch with the app for quick access
Instantly share YOUnify App with others using NFC
Social Networks (Facebook, LinkedIn, Twitter, BBM)
YOUnify is carbon neutral compared to business cards which statistically are discarded within a week 88% of the time. YOUnify creates and actionable contact 100% of the time for a fraction of the cost of the most basic business card. With NFC capabilities finally available on iPhone 6, Cubit Labs is committed to delivering an iOS version of YOUnify before the end of 2014, for more information visit:

http://www.YOUnify.US

http://www.facebook.com/YOUnifyApp

http://www.twitter.com/YOUnifyApp
#ContactSharingSimplified.