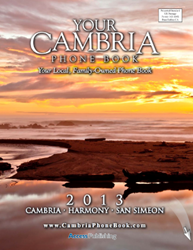 Cambria, CA (PRWEB) July 22, 2013
Over 6,000 copies of the 2103 Your Cambria Phone book were recently delivered to all the homes, apartments, motels and businesses in Cambria, CA and the entire 93428, 93435, 93452 zip codes.
The 2013 Cambria directory provides business listings, residential listings, government listings, maps, and more.
It offers community information on the Cambria Library, Chamber of Commerce, education, emergency services, evacuation plan, coastal elephant seal colony, groups, clubs and organizations, Hearst Castle, Joslyn Recreation Center, activities, events, parks, recycling information and worship services.
Popular categories in the business directory include antiques, appliance repair, art galleries, auto repair, contractors, floor coverings, hair salons, massage therapy, motels, nurseries, painters, pizza, plumbing, real estate, restaurants, tires, tree services, vacation rentals, windows and wine tasting. The listings are available in print and online.
Your Cambria Phone Books is produced by Scott and Beth Brennans local marketing and advertising company Access Publishing. The company publishes the San Luis Obispo County Visitors Guide, Central Coast Active magazine, North County Access and others. It also provides online marketing, search engine optimization and web design in Cambria.
We sincerely wish to thank all of our advertisers and readers for making this years book another success, said publisher Scott Brennan. Please support our advertisers and tell them you saw them in Your Cambria Phone Book.
We are proud to be the only family-owned local phone book in Cambria, Brennan says. Please check out the bold listings in the white pages, and the clean layout and bold headings in the yellow pages.
The directory is a good deal for small businesses looking to advertise, says Brennan, because it reaches the upscale Cambria community, offers low rates, top-quality glossy print job, free full color and graphic design. The book is delivered in June every year.
Access Publishing extends special thanks to its top advertisers: Barnes & Associates – Sotheby's Realty, Cambria Pines Realty, Core Care/Daniel Kiyama, The Real Estate Company of Cambria, Breen Realty – Richard Breen, Bruce Owens Painting, Century 21 Associates West, Cookie Crock Market, Jan Lloyd Barnes & Associates, JBJ's Roundup Pizza 'N Grub, JJ's Pizza, Madelines, North Coast Tree Service, TireWorks, Woodies Pizza.
Featured clients of Access Publishing:
Re/Max Pines By The Sea

Cambria Real Estate Agents

770 Main St

Cambria, CS 93428

(805) 927-2474
Sea Otter Inn

Motel in Cambria

6656 Moonstone Beach Drive

Cambria, CS 93428

(805) 927-5888
ADS Corporation

Cambria Architect

788 Arlington Street

Cambria, CS 93428

(805) 927-8138
Gregg Whitfield Painting

Cambria Painter

1982 Londonderry Lane

Cambria, CS 93428

(805) 927-1604
About Access Publishing

Access Publishing helps local businesses master online marketing with solutions created for small business. Access is a local leader in Internet marketing, advertising, local search engine optimization, SEO, Google Business Photos, web design, blog writing, press releases, graphic design and printing.
Access Publishing, 806 9th Street #2D, Paso Robles, CA 93446 (805) 226-9890
For a free copy of Your Cambria Phone Book, visit the Cambria Chamber of Commerce or call Access Publishing at (805) 226-9890.