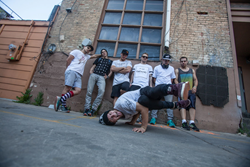 Detroit, Michigan (PRWEB) April 16, 2015
Detroit will be the eighth stop on the month-long North American Off the Edge Tour for 2013 Red Bull Art of Motion Champion, Cory DeMeyers and top-ranked Youtube video blogger, Jesse La Flair, as they pursue their objective to not only make parkour and freerunning the most popular sport amongst teenagers and young adults, but to inspire them to get off the couch and exercise. On Saturday April 18th, their tour bus will arrive in the Detroit Metro area. They will begin the day by screening their documentary From Here to There at the Emagine Entertainment Clio Square Cinema in Clio. From there, the team will head out to Riverbank Park in Flint where they will host an afternoon-long jam open to the public. Joining them are some of the top parkour names in the world including multiple Red Bull Art of Motion Champion Jason Paul from Germany, Team Farang founder Anan Anwar from Thailand and Instagram star and extreme freerunner Pasha The Boss Petkuns from Latvia.
The Detroit area has developed a faithful and skilled group of freerunners, explains La Flair. Our sport, unlike many others does not require any special equipment or play area. Just a pair of shoes. Combine that with the infinite industrial landscape of Detroit and the city becomes a freerunners playground. Our goal here is to connect with this group and share our common interests, this is what the Off the Edge tour is all about community, friendship and a passion for parkour and freerunning.
Jesse and Cory are both members of pioneering American parkour and freerunning team, Tempest, based in Los Angeles, California. Tempest was one of the first groups to open gyms in the United States, recognizing early on the potential for growth of the discipline. La Flair and DeMeyers are just the latest Youtube sensations from the team which spawned a successful business and careers for its members in the Hollywood film industry.
Our tours goal is not only to spread awareness about parkour and freerunning to a new generation, but to also make local governments and businesses aware that we are a legitimate sport with millions of practitioners world-wide, explain DeMeyers. We find it hard to comprehend that parkour and freerunning videos are some of the most viewed content on social media, and have been for years. We have proven we are not a fad. There are gyms opening every week throughout the United States. There are even talks of Olympics and Xgames competitions, therefore governments and businesses should start to take notice and build park facilities and sponsor athletes, as they have already begun in Europe.
The Off the Edge Tour bus will arrive in the Detroit Metro Area on Saturday April 18th, 2015. La Flair and DeMeyers, along with all athletes will hold a screening of the documentary From Here to There, following La Flair and DeMeyers European adventures leading to their podium victory at the 2013 Red Bull Art of Motion in Santorini Greece will be held at Emagine Entertainment – Clio Square Cinema at 11am (2151 West Vienna Road, Clio, MI 48420). Entrance to the movie is $ 15. Following the film the Off the Edge jam will be held at Riverbank Park from 2pm to 6pm (At the intersection of Garland Street and West First Avenue in Flint, MI). Admission to the jam is $ 30 and is open to the public.
For more information on the Jam and Screening for Detroit, click http://tinyurl.com/goingOTEDetroit
About Off The Edge:

The Off The Edge World Tour is the worlds Largest Freerunning & Parkour tour. OTE was designed to be an interactive event that not only provides an engaging and exciting experience for its attendees, but also will continue to reach millions across the internet with its inspiring Youtube series. To find out more visit http://offtheedgeworldtour.com/ or follow them on https://www.facebook.com/goingOTE and Instagram- @GoingOTE
About From Here to There:

From Here to There is a documentary about friendship, freerunning and following your dreams. Jump into the lives of professional freerunners and best friends Jesse La Flair and Cory DeMeyers as they travel the globe and overcome the hardships of chasing their dreams in the fastest growing action sport in the world.

To find out more visit http://fromheretotherestore.com/ or follow them on https://www.facebook.com/fromheretotheredoc/timeline and Instagram- @fh2tdoc
Press contact:

ROCK Group PR +1 (305) 751-5085

Roch Nakajima roch(at)myrockgroup(dot)com

Alex Alvarez alexal(at)myrockgroup(dot)com

http://www.myrockgroup.com