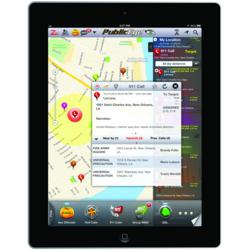 Nashua, NH (PRWEB) February 27, 2013
Zco Corporations public safety products, including PolicePad, FireTab, PolicePhone and FirePhone, now come under a single, unified product name, PublicEye.
The new name better describes the vision behind our product line and eliminates brand fragmentation, according to Gary Mueller, Vice President of Business Development for the public safety products.
PublicEye is a real-time mobile intelligence platform for police, fire and emergency medical services. Using PublicEye, first responders can access critical data for optimizing emergency response operations. Some of that data has been bottled up in back-end systems but until PublicEye could never be accessed in time to help save property and lives. Other data is now available for first responders from sources never accessible before. This includes information from websites, live video and surveillance systems, and even social media.
Every first responder, using a secure link, uses their iPhone, iPad or Android device to monitor 911 calls as they occur on a real-time map and in a list, and with one touch gets complete details. Other incidents and objects, such as sex offenders residences, HazMat sites, condemned buildings, or other points of interest, can be superimposed on the map. It even helps police, fire and EMS to interoperate with each other within their own communities or with their counterparts in adjacent communities.
Along with the name change, PublicEye brings the general public into policing, firefighting and emergency medical services like never before. At a house fire, for example, a neighbor calls 911 and takes a photo (or video) and uploads it to her Twitter (or YouTube or Flickr) account. The Twitter icon appears next to the 911 icon on the responders PublicEye device. First responders and chiefs see the photo with one touch.
Public safety departments can initiate tweets and other social media postings to warn, inform and educate the community. Road closings or travel restrictions can be communicated quickly to a wide audience. Officers can take pictures of suspects right from surveillance video and send a group MMS to other officers to be on the lookout. They can even watch live surveillance video from schools and other public buildings.
When it comes to public safety, PublicEye gives police, fire and EMS departments the power to do more with less.
About Zco
Founded in 1989 and headquartered in Nashua, New Hampshire, Zco Corporation has served Fortune 20 companies to small businesses for over 20 years. Zco is one of the largest custom mobile app developers in the world. Its services include 3D animation and games, augmented reality and custom software. In addition to Zco's work for hire, it is the developer of PublicEye, a revolutionary public safety tool. To learn more, visit http://www.zco.com/.