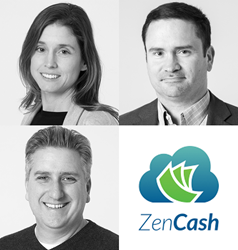 Dallas, TX (PRWEB) January 08, 2014
ZenCash, the leading cloud-based accounts receivable solution, today announced the appointment of three new executives to round out its leadership team in marketing, product management, and on-demand outsourced services.
ZenCashs unique value proposition provides an exciting opportunity to make a real impact on the lives of tens of thousands of business owners, said ZenCash investor John Jaggers, But any business opportunity, no matter how exciting, is only as good as the team tasked to make it happen. ZenCash already had an excellent team, and these new additions should take the company to a whole new level.
Specifically:
Phil Ayres joins ZenCash as vice president of marketing from Hotels.com, where he was previously director of online marketing. At Hotels.com, Ayres grew the affiliate business from $ 19MM to over $ 200MM in less than four years. He also expanded revenue from the search engine optimization channel from $ 140MM to over $ 400MM in North America in just over two years. Prior to Hotels.com, Ayres oversaw successful marketing programs at The Professional Education Institute and Highbeam.com, and is a former U.S. Naval Officer.
Anna Van Sligtenhorst joins ZenCash as vice president of product with experience from both Telligent and Match.com. At Telligent, where she was previously director of product management, Van Sligtenhorst helped transform the social community and collaboration product from freemium to enterprise software and was instrumental in growing brand awareness via blogging and analyst relations. As director of site and customer experience at Match.com, she produced a 16% lift in subscriptions and generated 22% growth in acquisition with the implementation of business model changes and product capabilities.
Steve Fontaine joins ZenCash as vice president of services from Zale Corporation, where he was senior director of customer service and store support. Previously, he served in various roles with Jewelers National Bank, the financial service division of Zale, including manager of vendor performance, operations manager, collection manager and authorizations supervisor. He holds a Master of Liberal Arts in Dispute Resolution from Southern Methodist University and trained at Harvard Law Schools Program on Negotiation. Fontaine will oversee customer service, collections operations and call center management for ZenCash.
With the companys outsourced invoice follow-up product hitting its stride, these new team members will help us massively extend our reach, said Brandon Cotter, founder and CEO of ZenCash. Every company that uses ZenCash has the opportunity to increase its cash available for new investment, driving both growth and jobsits an incredibly virtuous cycle.
In the two years since forming the company, ZenCash has received numerous accolades from sources like Forbes, VentureBeat and TechCrunch, as well as five-star ratings from sources like Intuits QuickBooks and GetApp. ZenCash is relentless in its advocacy of user-centered design and building experiences that are not just useful but joyfuland even fun.
About ZenCash

ZenCashs mission is to help businesses get paid. As the leading cloud-based accounts receivable solution, the company removes the pain, frustration and stress from businesses with its elegant SaaS application and real-world print, phone and collections tools. With ZenCash, a business can speed cash flow, save money and make life easier for financial leaders. Founded in 2011, ZenCash is headquartered in Dallas, with a development office in Cluj, Romania. For more information, visit http://www.zencash.com or call 214.580.2000.