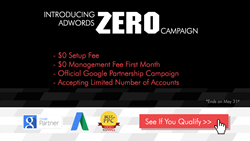 Boston, MA (PRWEB) April 22, 2015
Boston AdWords agency, Pepper Gang, eagerly encourages you to take advantage of the exclusive ZERO to Start Program, where all costs associated with the setup and first months management of your new Google AdWords account will be waived.
You cant afford to miss this exclusive offer expiring 31 May, and since spots are already filling up, if you are interested register now by clicking the link below. The AdWords package, which is valued to be worth at least $ 2,000.00, includes setup and account management features such as: display ads and pay per click advertisements.
Pepper Gang is excited to partner with Google to offer this exclusive no-risk program called Zero, said Co-Founder of Pepper Gang, Stefanie Daneau. This program gives businesses a great opportunity to try out AdWords or work with Pepper Gang completely without risk for one month. We are only able to offer a limited number of accounts and they are going fast, so any company that has interest is encouraged to contact us to learn more.
To learn more about Pepper Gangs ZERO to Start Program, please visit:

http://www.peppergang.com/adwords-zero/
About Pepper Gang:

Pepper Gang is a Boston based AdWords agency that specializes in creating strong, innovative integrated marketing solutions. The company was born out of a desire to tell each brands story in a way that compels like-minded consumers to align with the brand. Pepper Gang combines original thinking, creativity, and analysis to propel the growth of each clients customized strategy. For more information about Pepper Gang, please visit their website at http://www.peppergang.com/