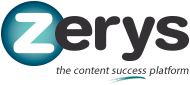 Chardon, OH (PRWEB) April 08, 2015
Zerys, the content success platform, recently released a premium industry report entitled, Whats the Future of SEO? 100 Industry Influencers Share Their Predictions.
This long-anticipated slideshare includes quotes from over 100 SEO professionals and other industry influencers. Their answers aim to once and for all answer the controversial question, Is SEO really dead?
The quotes also include best practices, tips, and insights on what content creators need to do to stay up-to-date with current SEO trends and ensure that businesses can stay relevant in the ever-changing world of SEO and content marketing.
Steve Lazuka, President of Interact Media, the parent company of Zerys, stated Were so grateful to the many contributors for sharing their experience and insights. These experts make it clear that the future of SEO is all about great content thats easily accessible on a wide variety of devices and formats.
Download a free copy of this report here , or go to: http://www.slideshare.net/Zerys/whats-the-future-of-seo-100-industry-influencers-share-their-predictions