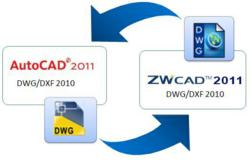 Boston, MA (PRWEB) July 19, 2011
ZwcadUSA, the exclusive Master Distributor for ZWCAD in North America today announced the release of the latest Update Release of ZWCAD 2011. New capabilities in ZWCAD 2011 embody enhancements most requested by our customers – increases stability and makes user experience smoother for frequently used features.
This update is at no cost to current ZWCAD 2011 customers. All ZWCAD 2011 customers are urged to install this update as soon as possible because it also stamps out many bugs reported by our customers. Please visit ZwcadUSA Update Release for the update details and procedure. Customers with earlier versions of ZWCAD can upgrade to the ZWCAD 2011 to gain the benefits of the latest release. They can do so for a nominal fee by visiting http://www.eStore.ZwcadUSA.com.
Kanti Purohit, CEO of ZwcadUSA, comments, This update release underscores ZWCADs commitment to offer an alternative to Autocad with the closest AutoCAD user experience.
Purohit continues, Once again, ZWSOFT sets a new standard by adding value to ZWCAD which is the most stable among all AutoCAD Alternatives, offers rich functionality, and costs one-fifth (1/5th) the price of Autocad.
Highlights of this ZWCAD 2011 update release include