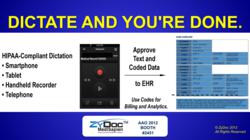 Hauppauge, NY (PRWEB) November 07, 2012
ZyDoc has linked its two patent-pending, flagship web-based platforms,TrackDoc Transcription and MediSapien Knowledge Management to offer an automated end-to-end solution for efficiently moving data into EHRs. TrackDoc allows physicians to dictate and transmit unstructured text directly to MediSapien for structuring, coding, and insertion into any ONC-certified EHR, along with the rich narrative. Ongoing demonstrations will be given by ZyDoc at the American Academy of Ophthalmology (AAO) 2012 Annual Meeting in Chicago, November 10-13, Booth 2451.
The TrackDoc-MediSapien workflow utilizes natural language processing (NLP) and associated patent-pending technologies to insert dictated documentation into the EHR, reducing the need for tedious point-and-click data entry with keyboard and mouse. Options for front-end or back-end speech recognition, edited speech recognition, and manual transcription are designed to meet the preferences and requirements of all medical offices.
Dictation is the easiest, most efficient method for capturing clinical documentation in rich detail. With MediSapien natural language processing technologies, that captured data can be automatically structured, coded, and inserted into the EHR, along with the Health Story that conveys the feeling of the encounter, states James M. Maisel, M.D., Chairman of ZyDoc and MediSapien.
The MediSapien Knowledge Management Platform is an enterprise-class Cloud-based platform utilizing patent-pending, disruptive NLP and other technologies to enable the capture, structuring, and transmission of patient health data as structured data accompanied by human-readable text. MediSapien automatically converts physician dictation or text from third-party transcription vendors, scanned legacy data, and semi-structured EHR inputs, into fully coded structured data for insertion into ONC-certified EHRs, and for secondary uses including in revenue cycle management and data mining. The captured data is automatically structured and coded, with the option of physician review and approval before or after EHR insertion. All ONC-certified EHRs are supported, and MediSapien and TrackDoc are fully HIPAA-compliant.
Physicians and administrators are invited to contact ZyDoc Sales at 800.546.5633 or visit Booth 2451 at AAO for more information.
About ZyDoc and MediSapien

Based in Hauppauge, New York, ZyDoc is a national leading-edge medical knowledge management company founded in 1993 to develop medical informatics technologies. Under the leadership of James M. Maisel, M.D., Chairman, the company has developed award-winning e-transcription infrastructure and speech recognition solutions. After successfully producing and selling those technologies for nearly a decade, the company shifted emphasis in 2003 to medical transcription, developing a best-of-breed solution that helped shape the web-based e-transcription industry.
Launched in early 2012, MediSapien is a ZyDoc technology business platform for medical transcription companies and MediSapien channel partners including EHRs, Billing/RCM and Analytic companies, Application Developers, and Health Care Enterprises, to help meet the new standards and data requirements that are transforming the health care industry.