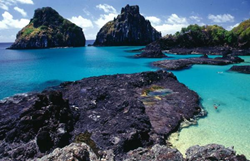 Missoula, Montana (PRWEB) April 14, 2015
Adventure Lifes Undiscovered Brazil trip has been named one of the 2015 National Geographic Traveler 50 Tours of a Lifetime. This is a distinguished acknowledgement given by one of the most renowned travel magazine in the world. Adventure Life is honored to have a tour recognized by National Geographic Traveler once again and excited for travelers to learn about the Undiscovered Brazil tour.
It is an absolute honor to have our trip selected by such a prominent travel publication, says General Manager, Jonathan Brunger. We are confident that our Undiscovered Brazil tour offers travelers unique experiences of a lifetime, but this recognition further confirms our belief.
This tour explores the diverse, remote, and often overlooked northeastern regions of Brazil. Not for the faint of heart, this itinerary is designed to appeal to true adventurers desiring a gritty and authentic taste of Brazil. Travelers begin by trekking four days through Lencois Maranhenses National Park and continue on to beach areas. Sand-board and surf while visiting the charming coastal village of Jericoacoara, then have the opportunity to snorkel, play with dolphins, and scuba dive in Fernando de Noronha. The itinerary also includes time on Baia do Sancho, which is considered one of Brazils most pristine beaches.
See the Undiscovered Brazil tour details here http://www.adventure-life.com/tours/undiscovered-brazil-3802 To explore the world with Adventure Life, visit http://www.adventure-life.com or call 800-344-6118.
About Adventure Life:

Adventure Life is a company of travelers with a passion for sharing the world with others. Our travel experience runs deep, from years volunteering in rural Africa and Central America, to research trips in Asia, studying in Europe, guiding in the Rockies, and just bouncing around every corner of the world. This deep experience is the reason behind our pioneering approach to travel and award winning itineraries. For nearly fifteen years we have been creating personal itineraries that immerse our travelers in the vibrant colors of a place, leaving both our guests and hosts enriched by the experience. From our beginnings as a Latin America specialist, we now offer private journeys, small group tours, and expedition voyages throughout the world. We pride ourselves on our intimate knowledge of our destinations and our dedication to sharing the world.
Media Contact:

Sublime Public Relations

Steve Snyders

steve(AT)sublimepub.com

406-728-4180