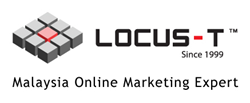 (PRWEB) February 28, 2014
Foto-zzoom, which is a popular online photography products website, has recently chosen LOCUS-T to be its SEM Agency for SEO & Google Adwords services. LOCUS-T is a successful public figure in the area of internet marketing & website development and has served the industry for more than 12 years at present. It is based in Malaysia & Singapore.
Foto-ZZoom, a digital photography products online store, has been attracting photography lovers all over Malaysia. The company specializes in a wide range of quality products, from photobooks to trendy digital cameras with excellent features. Precisely, Foto-ZZoom has all that you want to save your precious memories. The range of photobooks here includes wedding books, holiday and family moments albums, corporate books and personal portfolios. You may bank on Foto-ZZoom to get superior printing and professional handcraft binding too.
Now, LOCUS-T has been selected by Foto-zzoom to be their SEM Agency for SEO & Google Adwords Services to promote their branding and online promotion. LOCUS-T has been in Internet marketing and SEM field since long, it is well aware about the online promotion strategies required for digital camera and DSLR camera products.
DSLR digital camera products and photobooks at Foto-ZZoom are available in a wide range; hence, focus on each of these products is essential during online marketing. LOCUS-T understands this, and aims at promoting and branding of all products present on Foto-ZZoom website. The range of DSLR camera products here includes brands like Nikon, Canon, Olympus, Samsung and Sony DSLR. Choosing a good and reliable digital camera can be a daunting task if you are not aware about the features. Through SEM by LOCUS-T, the company is aiming to make its presence felt worldwide.
About LOCUS-T ONLINE SDN BHD

LOCUS-T is an experienced company that specializes in AdWords service and various Internet marketing based services. The company follows strict protocols, while delivering services to the clients. This in turn, ensures that the services are of high quality and help clients to fulfill their goals.
Contact

Company Name- LOCUS-T ONLINE

Telephone Number- + 603-7956 2173 (Malaysia)

Fax Number- + 603-7956 2176 (Malaysia)

Email Address- sales(dot)my(at)locus-t(dot)com

Website Address – http://www.locus-t.com