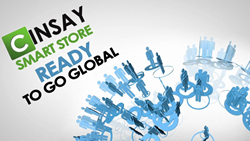 Austin, TX (PRWEB)
June 23, 2015
Cinsay, Inc., the world leader in social video ecommerce, has added more businesses and nonprofits to its growing diverse list of small to medium sized business customer base. An increase in users, longer video view sessions and more shares are also lifting conversion rates, transactions and donations.
During the last six months, Cinsay has seen an increase in the number of merchants and types of businesses and organizations utilizing its shareable transactional video technology. Also, merchants are using more of their own video content uploaded from their smartphones and sharing, the shoppable player on more web sites and social sites. Cinsay continues to broaden and develop its mobile technology as smartphone use grows and moves towards a predictive adoption rate of over 6.1 billion mobile accounts by 2020.
One successful nonprofit, The Womens Challenge, is fundraising through its promotional video with a built-in donation tool featuring drop-down selection with a range of dollar amounts to select. The video has been shared across email marketing and social media. The video has been so effective that each video view has averaged $ 69.00 in new donations from new and existing donors.
Cinsay's technology is an awesome platform for merchants; large or small. It's ease of use and quickness of payment processing works great with my organization's daily activities, said Lorraine, Director of The Womens Challenge Charity.
Other users include MLM or Direct Distributors that populate their Cinsay videos with professionally produced video content from their direct sales company. Vernon Dixon, a direct distributor with Jeunesse Global, said, This is actually a game changer for the MLM, Direct Sales industry as far as Im concerned. I now have the ability to promote my products using professional videos and presentations and my prospects and customers can purchase my offerings before, during or after the presentation this is awesome!
Ricky Haggerty, a college student in Tyler, Texas, has his own successful direct sales business with Organo Gold and promotes it with a Cinsay video store. The video gives Haggerty the ability to directly speak to audiences in his neighborhood plus open new direct downlines around the world. Haggerty said, The individuals at Cinsay are amazing. I have been pretty much coached on how to build a solid online presence with my business.
One segment of business are restaurants and entertainment venues which are experiencing success from Cinsays videos. Aunt Chiladas launched a video marketing campaign to promote and sell tickets for the restaurants annual Cinco de Mayo event resulting in an unprecedented 21% conversion rate inside the video as compared to an average conversion rate of just 2% to 4% for traditional marketing.
We have never sold tickets online and by using the Cinsay Video Store it was easy to implement on our website, Facebook and twitter feeds, and we were extremely pleased with the outcome, said Tiffany Allison, Director or Operations. Viewers of the promotional video were able to instantly click on the Buy Now tab and purchase the selected number of tickets and then simply check out all inside the video player and without having to link-out to another app or website. The transactions were 100% completely captured inside the Cinsay video player and both outside and inside of social media; something merchants cant do with either Vimeo or YouTube.
A large amount of new video views are coming from social media networks including Twitter and Facebook fan pages, boost posts and social shares inside and outside of Cinsays video platform.
The ability to highly target potential shoppers and transact at the point of watching, based on location, age, gender and specific interests, has also increased video views and take actions. Costs per lead for the various shopping channels and specific product landing pages has continued to drop from an average of $ 1.20 earlier to just above $ 0.54 per CTA (Call to Action). A few successful campaigns experience an increase in lead generation and commerce by as much as 200% over traditional text and email marketing.
Cinsays core technology is based on a web and mobile shareable interactive video platform that can be used by anyone anywhere, to market, generate leads, increase sales and leverage video, unlike any other technology on the market today. Recently added components to Cinsays video include streaming unlimited LIVE content and transacting directly inside any LIVE video stream.
Cinsay empowers SMBs and entertainment companies with Watch. Shop. Share. patented technology. This helps to turn viewers into shoppers and then shoppers into marketers as they continue sharing the Cinsay video store to their friends, family and colleagues, said Christian Briggs, founder and CEO of Cinsay. Its the ultimate platform to extend your products and services locally or worldwide to current and new customers in and out of social media with potentially less costs.
Cinsay also features additional payment gateways like Chinas TenPay and AliPay coming later this summer. By adding additional merchant gateways in its video platform, Cinsay now has the ability to take expanded ecommerce payments inside Chinas most popular social networks along with embedding and transacting on twenty-plus other social sites around the world including Latin America.
Additional key elements include Cinsays multi-patented product placement or hot spotting technology which, enables any brand or, merchandising licensee, film studios, content holders and even restaurants and merchants to seamlessly tag images and items in the video that can be clicked on by viewers to trigger any type of interaction including, ecommerce.
Besides SMBs and charitable organizations, Cinsays client base actively serves a growing number of content providers ranging from movie studios, musicians, entertainment venues, and sports franchises along with big brands and Network Marketing companies. Sales of Cinsays platform come from various channels including Yahoo Small Business.
One way many SMBs are effectively using Cinsays video platform is with the added marketing features that help merchants market and promote their online stores as well as design and host entire ecommerce sites like ShopAndretti.com, ShopRisi.com, ShopMarioA.com and ShopStrokersDallas.com.
As for Aunt Chiladas restaurant, Tiffany added, Were looking forward to finding more marketing and event projects where we can use the Cinsay player. I think weve just scratched the surface on the possibilities of what we can do together!
For more information about Cinsay and how businesses and organizations are discovering increased views and conversion rates, call 855-725-2462 or visit http://www.Cinsay.com and speak with an expert.
About Cinsay
Cinsay has developed the worlds first, multi-patented shareable, marketing and ecommerce video platform. Built to be viewer and socially interactiv