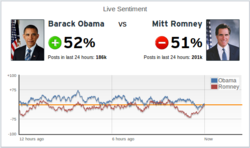 (PRWEB) October 22, 2012
Veooz today launched a special 2012 US presidential election page allowing on-line users to track the live sentiment in various social conversations for Barack Obama and Mitt Romney. Veooz calculates the sentiment of an entity based on the conversations in which it is occurring, using it's proprietary natural language processing and semantic processing technologies at a very large scale and in real-time.
From this service, any user can now get the live picture of what is the mood in the social media during the US presidential election final debate and the run up to the elections. The user can not only get a live sentiment averaged based on the most recent posts for each candidate in real-time, but also a 12 hour trend of how the sentiment has been varying for both the candidates.
With this new service, one can also get the activity for each of the candidates in the last twenty four hours in the form of number of posts mentioning each of them in various social networks. The influential tweets section on the page shows the comments of the most influential people in social media talking about either of the candidates. Veooz calculates the influential score of a social media user using it's proprietary algorithms that identify users who have maximum reach in various social networks. The whole information about both the presidential election candidates has been nicely packaged in an easy to use tool.
The users can also see the most informative and interesting comments being made now, in a separate section during the debate. These comments are picked from Facebook, Blog and News Comments using an algorithm that analyzes the interestingness of a post when compared to other posts.
From the last few hours of the Veooz sentiment trend, just before the final debate, it is clear that Obama is winning the social media war, but whether this same sentiment reflects in the actual election needs to be seen. From the pre-debate trend graph Veooz provides it is clear that the troughs of Obama's trend curve meets the peaks of Romney's trend curve. This indicates that Obama is ahead of Romney most of the times while Romney is also giving a tough fight during certain time intervals. On an average there seems to be a 3 to 5% of gap between both the candidates.
Overall, it seems while the presidential candidates Barack Obama and Mitt Romney are debating it out on the live stage, their followers and fans are debating it out on various Social Media networks. Going forward in future, this trend would lead to the election debates being fought more and more on Social Media than on the live stage.