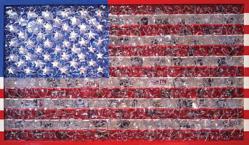 New York, NY (PRWEB) February 20, 2013
Nicholai Shchukin, a descendant of the prominent Russian art collecting family, will acquire a comprehensive collection of the series "Viewpoints of Millions" by American artist David Datuna, the collector's wife Marina Preobrazhenskaya announced today.

Created over a five-year period using flags as an emblematic device, the artists distinctive Viewpoint series examines the idea of nationhood, offering a unique conceptual look at culture and national identity. All the works utilize Datunas signature effect: a layer of cascading optical lenses that create varying prismatic effects and offer views of thematic elements that form the core of the artists work.
Mr. Shchukin, who will acquire as many as eighteen works from the flag series, compared the visual innovation of Datunas conceptual works to the groundbreaking work of the early 20th Century Russian painter Kazimir Malevich. The collection of Nicholai Shchukin includes such prominent 20th Century artists as Malevich, Wassily Kandinsky, Marc Chagall, Kees Van Dongen, and many other important French and Russian avant-garde artists.
The Shchukin family was an early collector of major painters including Picasso, Van Gogh, Cezanne and Kandinsky, and was also the patron of Henri Matisse. Alfred Barr, the founding director of the Museum of Modern Art called Shchukins acquisitions up until the First World War, the greatest collection, public or private, in the world of contemporary French painting. The familys collection, which was seized by the Soviet government in 1918, formed a significant part of many of the world's largest museum collections, including The Hermitage and the Pushkin Museum in Russia.
In addition to the "Viewpoints of Millions" series, David Datuna is known for his conceptual portraiture depicting such diverse figures as Vladimir Putin and Steve Jobs. In 2011, a portrait of supermodel Natalia Vodianova led the auction sales at a charity benefit in Moscow, selling for 600,000 euros.
David Datuna is a native of the Republic of Georgia who now lives and works in the New York. He recently completed his sixth solo exhibition, Emblem and Image. He is represented by Birnam Wood Galleries in New York.